Boat Rental Options
Does spending a hot summer day out on the cool, clear West Palm Beach waters sound perfect to you? How about exploring the mangrove forests and hidden waterways that make up the beautiful coast from the comfort of a rental boat from Beach Water Sports? Our large and varied fleet is well maintained, and with over 20 years of experience, we're able to help you make the most of your rental by recommending the best places to visit. Request an online quote or contact us at (561) 745-6900 (Jupiter) or (772) 225-2000 (Stuart) with any questions you may have.
Deck Boats
Renting a deck boat is a good option for those who want the luxury of a pontoon with the speed of a ski boat. Ideal for snorkeling adventures and visiting distant sandbars in the vast Florida waters.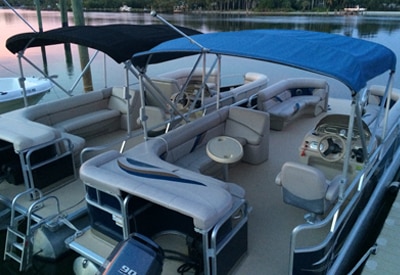 Pontoon Boats
If you want to rent a boat for a family reunion, a gathering of friends, or just a relaxing day on the water, a pontoon boat rental is your best option. Able to fit up to twelve people, pontoon boats are perfect for group outings to the beautiful waters around our locations in Stuart, FL, and Jupiter, FL.
Fishing Boats
Sport fishing is one of the most popular activities around Port St. Lucie, and our fishing boats are the perfect vessels to help you land the catch of your dreams. Our fishing boats have center consoles, allowing 360 degrees of motion around the deck; and large bait and catch wells keep fishing and snorkeling equipment out from underfoot.
Boat Rental Requirements
Florida law states that anyone born on or after Jan 1, 1988, must have a boating license. Here's how to save by getting your boating license before you arrive at Beach Water Sports.
In order to operate a boat or a PWC without a boating license, you must have a date of birth before January 1, 1988. If you are under the legal age and do not already have a boating license, we can administer a test. Upon passing the test, you will receive a temporary boating license (valid for one year).
IMPORTANT: Regardless of whether you need a boating license or not, anyone operating a boat or jet ski rental must have a valid government issued photo ID with them on the vessel.
Receive $10 off your rental by getting your permanent boating license at Boatus.org
Your permanent license will be issues by mail form the Florida Fish and Wildlife Conservation commission within 3-4 weeks after you pass the exam.
Every boat rented from Beach Water Sports includes essentials like life jackets, an anchor, a horn or whistle, the boat's registration, a T-Top or bimini cover for shade, and a full tank of gas. In addition to boat rentals, we also offer boat tours and jet ski, kayak, and SUP rentals. Questions or comments? Contact us today at (561) 745-6900 (Jupiter) or (772) 225-2000 (Stuart), or request a quote online and start planning a memorable day at West Palm Beach, Florida.