Pontoon Boat Rentals
There's truly no better way to enjoy the bright waves and sunny skies of the Florida coast than by getting out and enjoying the sandbar and clear intracoastal waterway with a pontoon boat rental. At Beach Water Sports, we pride ourselves on providing our customers with high-quality, affordable boat rentals. If you're looking for a way to immerse yourself fully in the beautiful outdoors of the Sunshine State, request a quote online or contact us at (561) 745-6900 (Jupiter) or (772) 225-2000 (Stuart).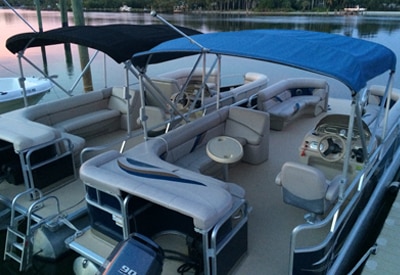 22′ Pontoon Boats
Request Quote
View Rates
Furnished with comfortable seating, a 22′ pontoon is sure to please your whole group. Up to 10 passengers can fit on this boat.
25′ Pontoon Boats
Request Quote
View Rates
With a capacity of 12 people and ample storage for food and beverages, the 25′ pontoon is like having your own personal island for sun bathing, lounging, or picnicking on the water.
Boat Rental Requirements
Florida law states that anyone born on or after Jan 1, 1988, must have a boating license. Here's how to save by getting your boating license before you arrive at Beach Water Sports.
In order to operate a boat or a PWC without a boating license, you must have a date of birth before January 1, 1988. If you are under the legal age and do not already have a boating license, we can administer a test. Upon passing the test, you will receive a temporary boating license (valid for one year).
IMPORTANT: Regardless of whether you need a boating license or not, anyone operating a boat or jet ski rental must have a valid government issued photo ID with them on the vessel.
Receive $10 off your rental by getting your permanent boating license at Boatus.org
Your permanent license will be issues by mail form the Florida Fish and Wildlife Conservation commission within 3-4 weeks after you pass the exam.
Each of our boats comes equipped with everything you need to safely enjoy your time on the water. This includes life jackets, a whistle or horn, an anchor, a bimini or T-top for shade, and throw cushions. Pontoon boats in particular are ideal for grandparents and children, since their low platforms make it easier for those with limited mobility to access the boat.
Rent a Pontoon Boat for Endless Fun
Pontoons are versatile vessels suitable for many occasions. Here are just a few of the ways our pontoons have been used in the past:
Plan a family gathering: Since a pontoon rental can fit up to twelve people, it's ideal for family reunions or just a day out on the Intracoastal Waterway. We have coolers available for your use, so pack a picnic and plan a full-day outing.
View unique wildlife: Peck Lake is just a short boat ride away from our Jupiter location, and it's a perfect place to see manatees, sea turtles, and beautiful birds. This lake is also near the ocean, so boaters often anchor their pontoon boat rentals and walk the few hundred feet to the beach.
Visit a historic site: Peanut Island, located near West Palm Beach, is a popular destination for tourists. Visitors can take a tour of President John F. Kennedy's bomb shelter built during the Cold War or enjoy the crystal waters and white sands of the island's beautiful beach.
At Beach Water Sports, we're committed to making your vacation as enjoyable as possible. That's why we offer deck boat rentals, and fishing boat rentals, as well as kayaks, jet skis, and paddleboard rentals at affordable rates.
If you'd like to make the most of your vacation, contact us at (561) 745-6900 (Jupiter) or (772) 225-2000 (Stuart). For added convenience, make an online quote request.